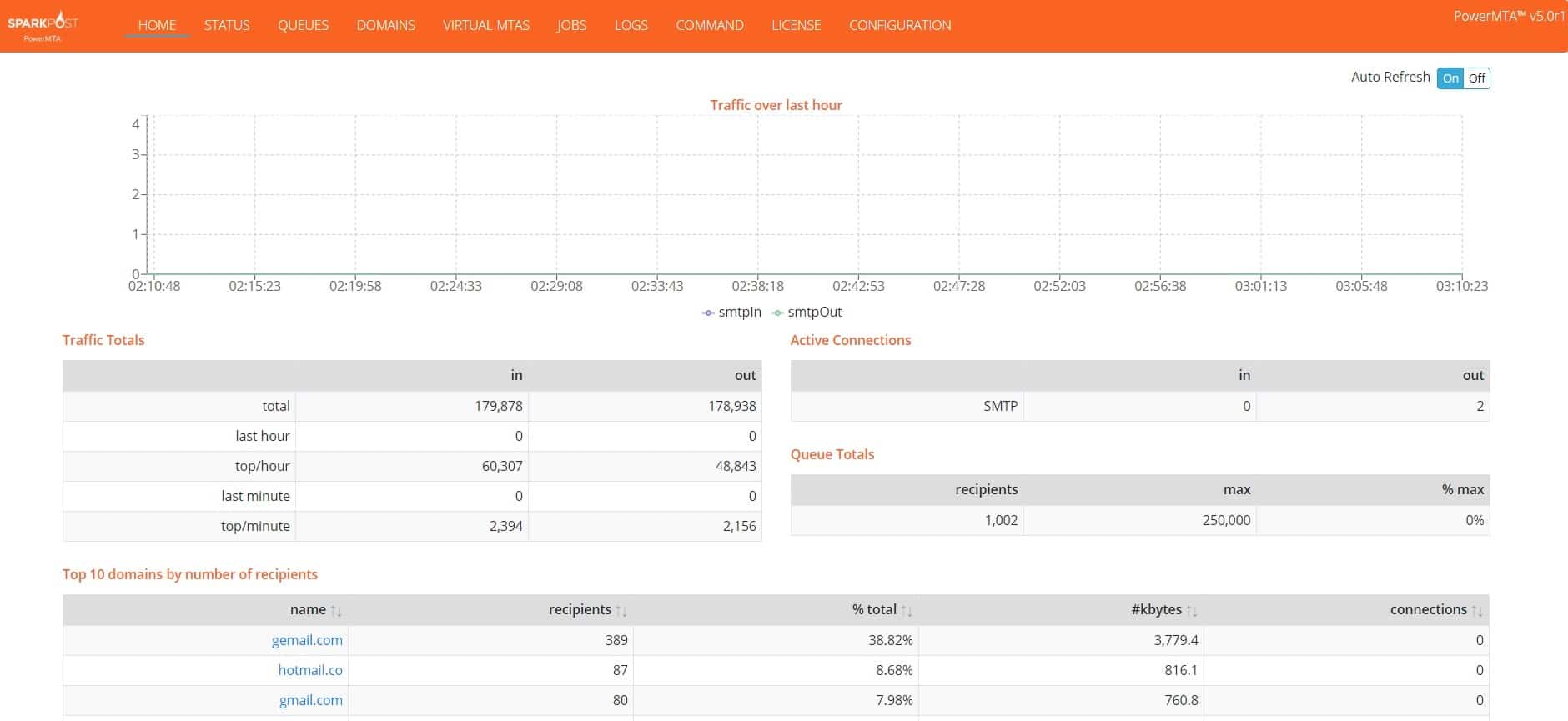 PowerMTA,handling very high email volumes easily, is a very specialized email delivery solution and the leader of email gateway solutions.PowerMTA is compatible with any SMTP compliant email feeder.Integration via various API allows marketers to leverage their infrastructure maximizing ROI.Advanced features such as VirtualMTA support,easy ip rotation,domain based throttling,mx based connection limits,talking and acting based on smtp errors make it easier for marketers to bulk email to their large email lists and send campaigns without a hassle while complying with spam policies,isp limitations.Port25,the makers of the powermta software, offers the support for windows and *nix systems,a good pricing with some discounts,installation and maintenance.
      With PowerMTA you could easily achieve high sending rates and maximum delivery to the inbox! It is by far the best smtp software,email gateway in when compared to other players on the market.
Here are the several features of the PowerMTA:
Easy installation and configuration
Integration with Authentication standarts such as dkim,domainkeys,dmarc..
VirtualMTA™ Technology
Simple statistics interface
Extremely scalable and stable
Best and fastest support in the industry via email,phone and forums
Ability to monitor ip domain reputation and act immediately
Detailed Reporting
Rate limiting
and many others..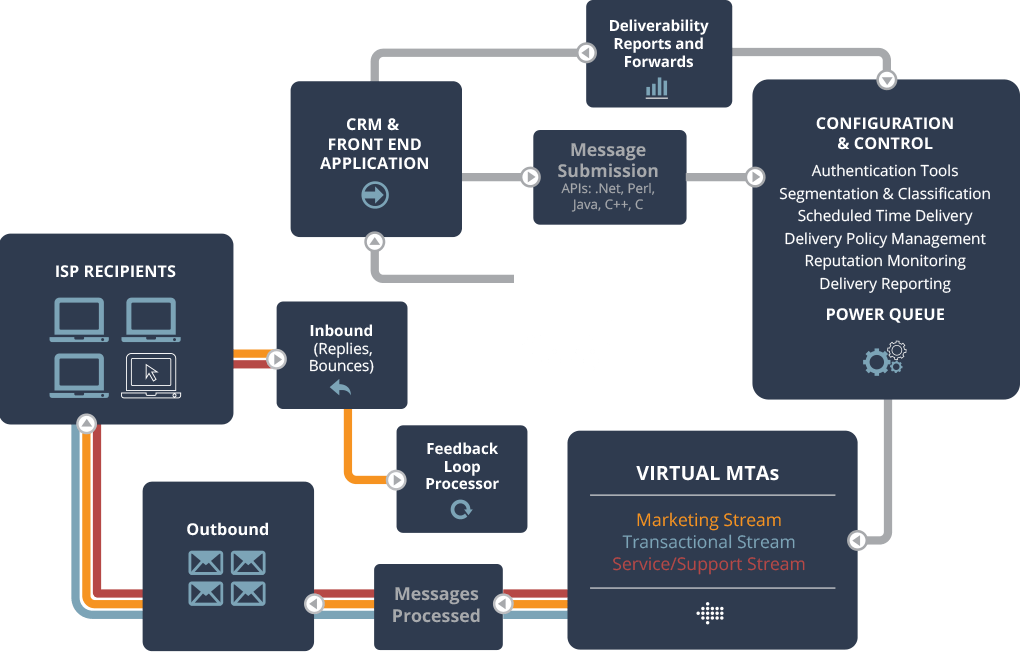 PowerMTA is installed on more than 4000 servers,60 countries worldwide.Companies such as NY Times,ExactTarget,Forbes and Responsys use PowerMTA to send their campaigns.
PowerMTA™ sets the standard for effective digital messaging and mission-critical customer communications.
Flawless high-volume email delivery
High reliability
Comprehensive delivery reporting and analysis
Customization and granular control
A core component of your technology stack
PowerMTA's authentication tools make it easy for senders to adopt the latest specifications and ensure on-going compliance by providing automated stamping and sending of messages as required by Sender ID and DomainKeys specifications (including cryptographic signatures, header insertion and protocol extensions). Messages are verified for compliance prior to delivery, and messages that fail the authentication check are removed from the queue and reported as failures.
VirtualMTA technology allows senders to control the source IP address for each single message. Each VirtualMTA performs independently; therefore, as long as the source IP is not blacklisted, your message has a higher chance of being routed to the inbox.
Consolidate servers, reduce manpower and streamline email flow while offering precise delivery control with options to enable or disable DomainKeys and/or DKIM-based sender authentication.
PowerMTA™ v4.5 now supports the ability to auto-increase cold VirtualMTA mail volumes with a list of daily limits. This makes it simple to have a set it and forget it configuration for warming new IP addresses.
PowerMTA offers real-time reputation monitoring. Marketers, administrators and/or ISP relations personnel will be notified immediately when your messages are blocked or being rate-limited. Once identified, PowerMTA can also stop/pause delivering mail and/or apply a new delivery parameter to execute retry attempts.
As the sending industry moves to a more secure and encrypted sending model, you will be increasingly required to track whether a message was delivered over a secure socket and, if so, what protocol and cipher were used. PowerMTA™ solves this problem by utilizing the Transport Layer Security (TLS) protocol over SMTP for certificate-based authentication that provides security-enhanced data transfers using symmetric encryption keys.
Advanced TLS handshake performance optimizations benefit high-volume senders by allowing you to use opportunistic TLS globally while having thousands of simultaneous outbound connections active. This feature is available with the Enterprise license.